Streamline your business with Voice over Cloud
VOCPhone is a powerful cloud business phone system. Have a look at our most popular features used by businesses just like yours.
Call Queuing
Never miss another call and reduce customer waiting times with 7 easy to configure call ring strategies and personalised greetings.
Interactive Voice Menu
Enhanced customer experience by ensuring client calls are always being directed to the right person the first time with interactive menus and announcements.
Android & iOS APP
Stay connected with the office with the FREE Android and iOS App. Transfer, make and receive office calls without showing your personal mobile phone number.
Customer Portal
From here you also get real-time view of your business communications with an easy to use portal allowing you to do what's important to you.
Time Conditions
A phone system that understands your business hours and working days by sending calls to the right place at the right time.
Personal Assistant
Busy Lamp allows real time monitoring an external phone status before transferring or making calls to that extension.
Conference Rooms
Real-Time Collaboration Audio and Video conference rooms with passwords and collaboration on the go using smartphones and tablets.
Windows APP
Work from home and stay connected with the office with the FREE Windows App. Transfer, make and receive office calls without needing any hardware.
Call Parking
Parking a call allows you to hold calls in a virtual location and retrieve them from any desk phone in your system.
Voice Mail to Email
Stay on top of business when you can't talk by having voicemails emailed to your inbox as an audio file.
Text to Speech
Convert written text into natural-sounding audio in a variety of languages and voices for your greetings and menus.
Voicemail Manager
Visual voicemail allows you to easily manage voicemails in your online portal, desk phone, PC or mobile device
Instant Provisioning
We are ready when you are, even with new phone numbers, order numbers via the customer portal are ready to go with the click of your mouse
Caller ID
Gives you the flexibility to manage both your incoming and outgoing caller IDs. You can also choose what business number when making outbound calls and name for internal calls
Roaming
Take your business with you overseas with our roaming servers, never miss a call and keep in contact with the office and customers
Call Logs
Realtime call logs keep a complete record of all your inbound and outbound calls. View the name of the caller, the number, as well as the time, date, and duration of the call.
International Numbers
Expand your virtual global presence with international inbound numbers in over 120 countries.
SMS Messages
Enhance your campaign or customers service with SMS messaging sent straight from your customer portal and select between one-way or two-way text messages.
Address Book
Sync and share your contacts with your business and save your personal contacts only visible to you
Multi Site
Voice over cloud allows multi-site support, this gives you the flexibility to manage and support your branch offices and their unique operational needs
Shared Lines
Share one phone number across multiple phones, and answer calls from any phone or call out from the office phone number using our mobile or PC app
Do Not Disturb
At the press of a button, Do Not Disturb sends calls directly to voicemail or routes them to the next call handling rule.
Music on Hold
Promote your business by playing a customised message when customers are on hold or play your own music tunes.
Number Porting
Number porting allows you to easily transfer an existing phone number to your Uniden Voice Over Cloud account in a few steps
User Extensions
Extensions allow each staff to connect with your cloud phone system by using our Uniden EVOC range desk phones or our app enabling employees at local, home or satellite offices to stay connected anytime and anywhere.
Heads Up
Whether you are using your Uniden EVOC2 desk phone, the mobile app, or our PC softphone, your colleagues can now easily see who is on a call or available.
Call Forward
Call forwarding is easy and completely transparent to the caller this makes it possible for the correct operator of your company to be on call.
Follow Me
In the office or in the car, the business line will find your device so you can both make and receive calls to that number wherever your business takes you.
Video Conference
Easy to use, secure and unlimited video conference calls with your staff or host a meeting worldwide. Boost your team efficiency with one-click screen sharing from Google Chrome
Call Packs
Save money with our no contract unlimited calls packs, scale your business when you need and decrease when times are quite
Call Reports
Build realtime report about all the calls going to and from your business. You will see statistics about how many calls were answered or missed. You can save the generated reports as Excel, PDF or CSV
Click to Call
Embed a little code on your website that will give customers a quick way to call your business and use this feature for your CRM to call customers with one click from our PC application
1300 / 1800 Numbers
1300 numbers enable your customers to call your business from anywhere nationwide for the low cost of a local call. 1800 numbers allow customers to call toll-free nationwide.
API Access
APIs allow you to automate reporting and manage some aspects of the voice services provide with 3rd party services. Advanced API features limited to enterprise plan.
Call Recordings
You can save inbound and outbound recorded calls locally on your phone or PC or together in the *cloud for easy access (cloud recording additional cost*)
SMS Messaging
Enhance your campaign or customers service with SMS messaging sent straight from your customer portal and select between one-way or two-way text messages
Intercom
Intercom allows for fast and easy messages without having to answer the phone.
HD Audio
HD voice delivers at least twice the sound quality compared to a typical voice phone call
Video Calls
Use our PC and Mobile application to stream one on one video calls with staff.
SMS Messaging
Work as a team and get live email notification when you have a new SMS or voicemail
Stay connected!
Working from the Office, Home or on the Road
No problems, never again will your business miss another call or potential sale as our mobile app keeps you connected on the go with inbound, outbound and transfers just a click away!
Save time getting connecting at the office or home with our Plug & Play handset and Windows App. Getting connected has never been easier!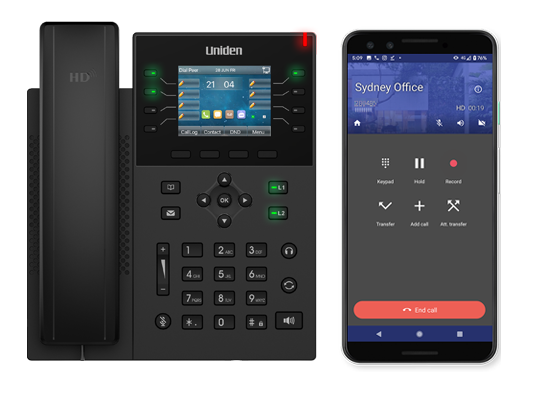 Enjoy Untimed HD Video meetings for up to 30 users, with secure chat & screen sharing.